I made these a year ago for a Valentine's swap and realized that I hadn't posted them.
The first is a heart covered measuring tape, I used a dollar store tape and some inexpensive felt...total cost was about 2 bucks.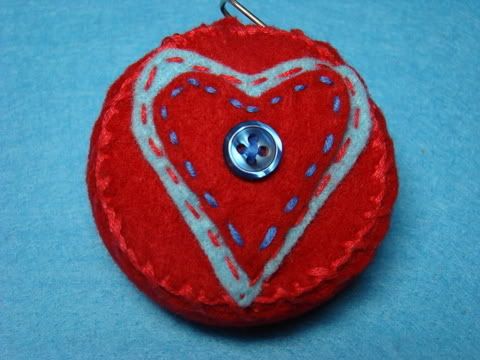 Materials (change them to suit your own project)
A tape measure
4 circles of felt (slightly larger than the size of the tape measure)
2 long rectangular piece of felt (slightly larger than the size of the circumference)
(Note…. if you use heavier felt (wool), then you only need to cut out 2 circles and 1 strip.)
Some scraps (for decoration)
A button
Some embroidery floss (I used red and blue)
Step 1
Decorate one of the circles anyway you want.
I layered hearts which I outlined with floss and added a button.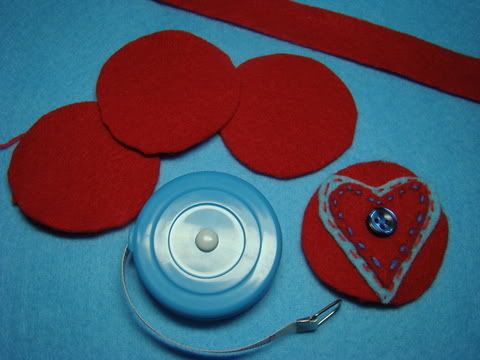 Step 2
(Skip this part if you use the heavier felt)
Sew two circles together (I used the blanket stitch) Do the same with the
other 2 circles.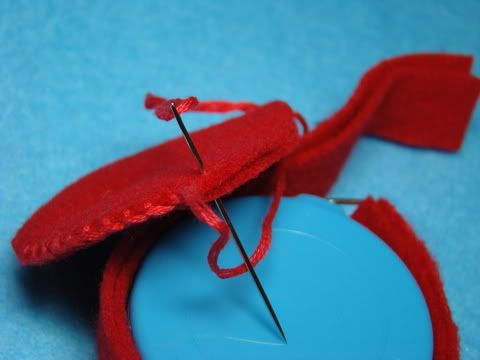 Step 3
Layer the two long strips together and pin.
Wrap it around the tape measure and lay your circle on top then stitch
together. It will seem awkward at first but once you get a few stitches in it will
be easier.
I used the whip stitch.
Flip it over and do the same with the other circle.
I also did a blanket stitch around the opening of the felt where the tape comes
out.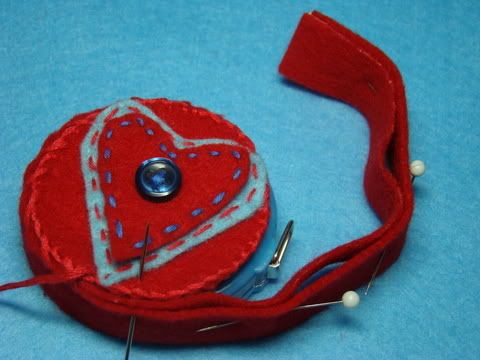 Finished!!
I also used felt to make this needlebook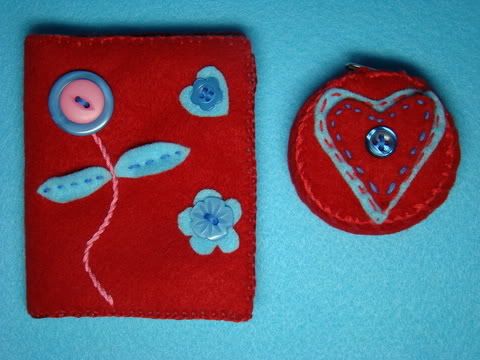 Another project I made was a cupcake pincushion from this free pattern.