At the end of this tutorial you should have a pretty vase for all those flowers that, no doubt, will soon be coming your way.
I've chosen red for Valentine's Day and made five different flower embellishments but the beauty of this project is that you can quickly and easily change it to suit any occasion or compliment the colour of your flowers.
I decided to use only what I had on hand which included some recycled materials, and which also explains why my vase holds paintbrushes instead of real flowers.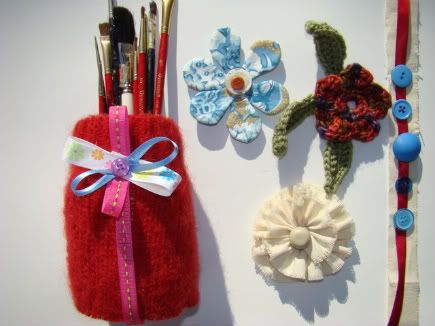 Materials:
-A container of your choice (a glass jar, a tin can, etc)
-A sleeve from an old sweater (I bought a child's sweater for $1 at the thrift store)
-Scraps of fabric, buttons, ribbons, yarn or felt (It's all up to you!)
-scissors
-needle/thread or glue gun
For the Vase
Pull the sweater sleeve over the jar, lining up the top edge of the cuff with the top edge of the jar.
Cut off any extra fabric that is below the bottom edge of the jar. I told you this was easy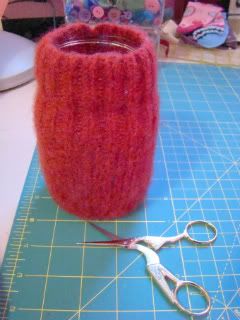 (Since my sweater was wool I prewashed it in hot water and then tossed it in a dryer so that it felted and could be cut without unraveling.
If yours won't felt, run a line of stitches (with matching thread) about ¼ inch in from where you want to cut. )
Frayed Flower
My grandmother showed me how to make this when I was little.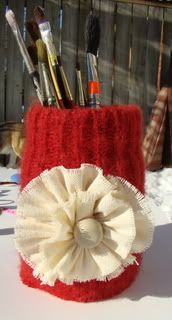 You need:
-A strip of material (that will fray) 1 inch wide by 30 inches long
-A button for the centre
-needle and thread
-scissors
Fold the short end of one side over a ¼ inch and sew in place with a couple of stitches.
Then stitch along one long edge using a running stitch and pull to gather.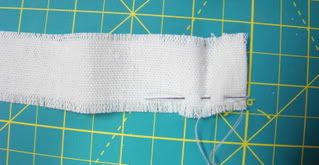 It will naturally shape into a flower. Sew a few stitches in the back centre to keep it in place and then add a button to the centre.
A Simple Ribbon flower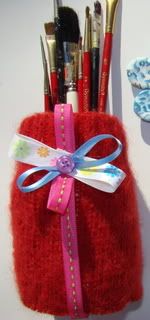 You need:
-3 ribbons (a 12 inch length, and two 7 inch lengths)
-a button for the centre
-a needle and thread
-scissors
To form the petals, lay a 7 inch ribbon flat with the right side down and fold both ends towards the centre overlapping ¼ inch.
Pin or sew a few stitches to keep it in place. Repeat with other ribbon.
Take 12 inch ribbon and one end of the ribbon into a loop to form a petal about the same size as the others.
(My petals turned out to be about 3 inches across).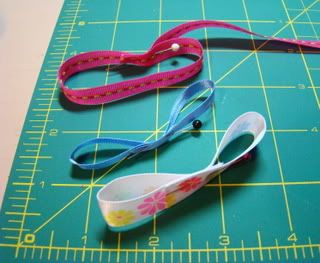 Layer the ribbons on top of each other to form a flower making sure that the longer ribbon is at the bottom (the tail forms the stem).
Fasten the centre with a few stitches and then sew or glue on your button.
Fabric flower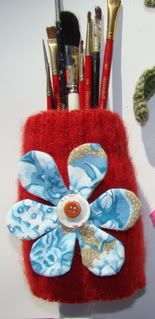 For my petals I used a piece of fabric about 9x6 which I folded over
(right sides together) to form 9x3 in. You can also use smaller scraps of different fabrics for each petal.
Make a pattern by drawing the shape of a petal on paper for your cutting line.
Cut out your pattern and pin it along the unfolded 9 inch side. With your sewing machine sew around your petal but don't sew around the bottom straight edge.
Move your pattern and repeat until you have all 6 petals sewn. Cut out your petals leaving an extra ¼ inch from your seams.
Clip seams and turn inside out.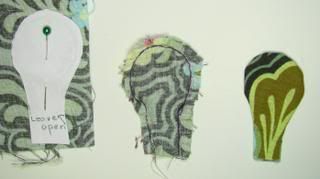 Stack your petals on top of each other and stick a pin through the non-rounded ends.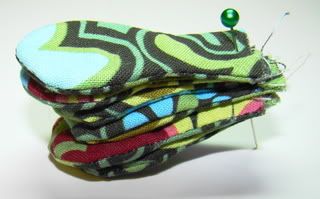 Fan out your petals to form a flower and adjust until you are happy with the shape.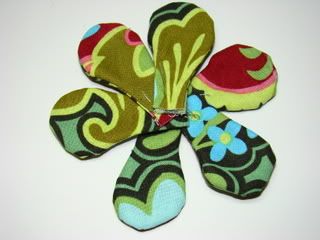 Stitch in the middle to secure it and add a button or 2 to cover up the messy centre.
Crochet flower with leaves
You can find the free leaf pattern here
http://sukigirl74.blogspot.com/2009/01/free-crochet-leaf-pattern-with-pics.html
For my flower I used a pattern from Crochet Inspiration by Sasha Kagan
but there are also some free patterns online.
One of my favourite sites, Attic24, has a great tutorial for
some pretty flowers and leaves.
http://attic24.typepad.com/weblog/crochet-flowers-and-leaves.html
Buttons and ribbon Flower
(seen in the first photo on the right hand side).
You can make this as complicated or as simple as you like.
Mine is a simple version where I simply layered 2 ribbons and sewed on some buttons.
Fasten around vase with a few stitches to keep it in place.
I hope you will have fun with this tutorial!