Today I decided to clean up and organize my workspace a bit. I came across this box (formally filled with chocolates) and now used for holding little crocheted items.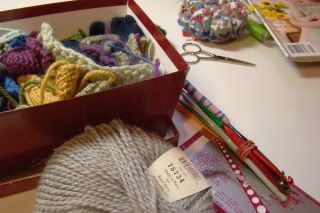 You know the kind.... those odd things that aren't really a project on their own but are fun to make.
Mine include various parts of flowers (stems, leaves, petals), small granny squares, partly finished projects that were rejected because they were too small, too big, misshapen, or the wrong colour.
This last catagory includes half of Cartman's head, a half finished bird shaped egg cosy that I tried to design but looks nothing like a bird, an extra cup-shaped sweater for my little owl that I made that didn't suit him... things like that.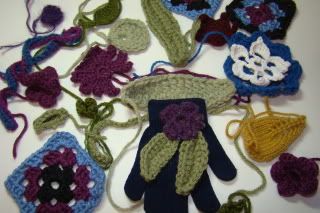 The glove is a bit of yarn graffiti that I haven't put up yet. This past spring I gathered a bunch of lost, holey gloves from the nearby school when the snow melted. When I looked at it laying in the gutter I wondered what it would look like if it was left there. I'm sure Mother Nature would have eventually added some leaves and flowers, so that is what I did. I have a bunch more gloves and mittens that I want to play with.

Not everything in this box will end up as graffiti.
A lot of the flowers will be added to the street memorials put
on poles and trees
by friends and relatives to honour those who have died in car accidents.
I'm hoping it will bring a small bit of comfort; that even a stranger can recognize the sacredness of that spot.