I have the cutest neighbours.
Finn is 2 years old and his brother Leif is 4 years old
They often stick their heads out their window and have a little chat with me.
Today for example I learned from his brother that 2 year old Finn was in trouble because he had started saying the F word and the X word (I don't know the X one but since they are Finnish maybe it is something that they picked up from their dad.)
I stopped myself from laughing... it was hard to picture the F word coming out of that sweet child's mouth.
They both
love dinosaurs and Halloween
and
I've been wanting to crochet them something for a while. I finally saw this wonderful pattern by Owlish
and knew that it would be perfect.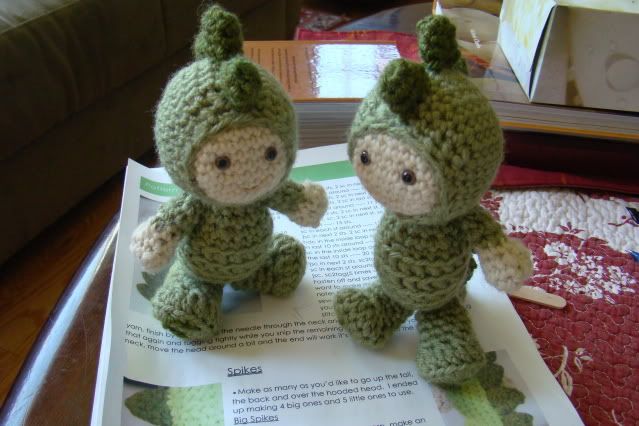 I made 2 'brothers', one slightly smaller, both with their initials on the bottom of their feet so that they don't mix them up.
I gave it to them today and was rewarded with big smiles.
I probably should have waited until Finn wasn't being punished but that is the advantage of being a neighbour and not a mother to them.