One of the wonderful things about the gorgeous
yarns that are available now is that even
a beginner knitter (that's definitely me)
can make a pretty scarf using
the simplist pattern.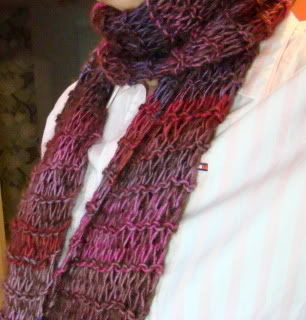 This scarf is for my son's girlfriend and
as this is my first gift to her
I wanted it to be special.
It's a simple garter stitch
using 20 stitches on 15 inch needles.

The yarn is lovely,it is Lang's Mille Colori
and are stripes of deep chocolate browns with
amazing jewel purples and reds.

But what made this scarf come out so lovely
was the addition of a second thinner yarn
called Rowan kidsilk haze made from kid
mohair and silk. Not only does it add an
incredible softness to the scarf but
it also adds a slight shadowing affect
which unfortunately doesn't show
up in pictures.