My oldest son asked for 2 books
written by Barack Obama
for Christmas so when I saw
this pattern I thought I'd
make it for him.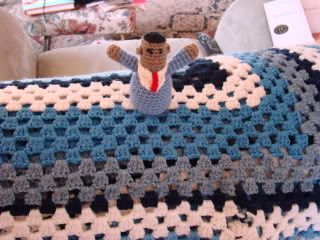 He's 2 1/2 inches tall which
is smaller than if you
followed the yarn and hook in
the pattern.
I decided to make him using
a dk weight yarn and 2.5 mm hook.
I also made him into a stuffed toy
instead of a puppet.
I think he would also look
cute as an ornament to mark
this historic event.


Here is the free pattern.
You just need to sign in to Lion Brand